Febal Casa's wardrobe designs in Dubai are the pinnacle in luxury living, providing a smart and stylish solution to optimize your storage space. We offer expert care and advice on how to store and arrange all of your clothes and accessories. Why settle for a small, cramped closet when you can have a large, stylish, and modern wardrobe design in Dubai from Febal Casa?
Having your own customized wardrobe design in Dubai is a true luxury, whether you're remodelling a part of your bedroom or using a spare room. A bespoke wardrobe design in Dubai makes the most of your space, ensuring to take care of all your storage needs. They are ideal for keeping your bedroom neat and clutter-free. Not only will your clothing and shoes be perfectly arranged, but so will your jewellery, accessories, and other personal belongings.
We offer exquisite wardrobe designs in Dubai that are adapted to your tastes, preferences, and requirements. Whether you need shelves, drawers, hanging bars, racks, or other special divisions, you can be confident that our professionals will be able to incorporate whatever you require into the blueprints. Whatever you want, your wardrobe design in Dubai will be completely customized and one-of-a-kind for you.
Types of Wardrobe Designs in Dubai by Febal Casa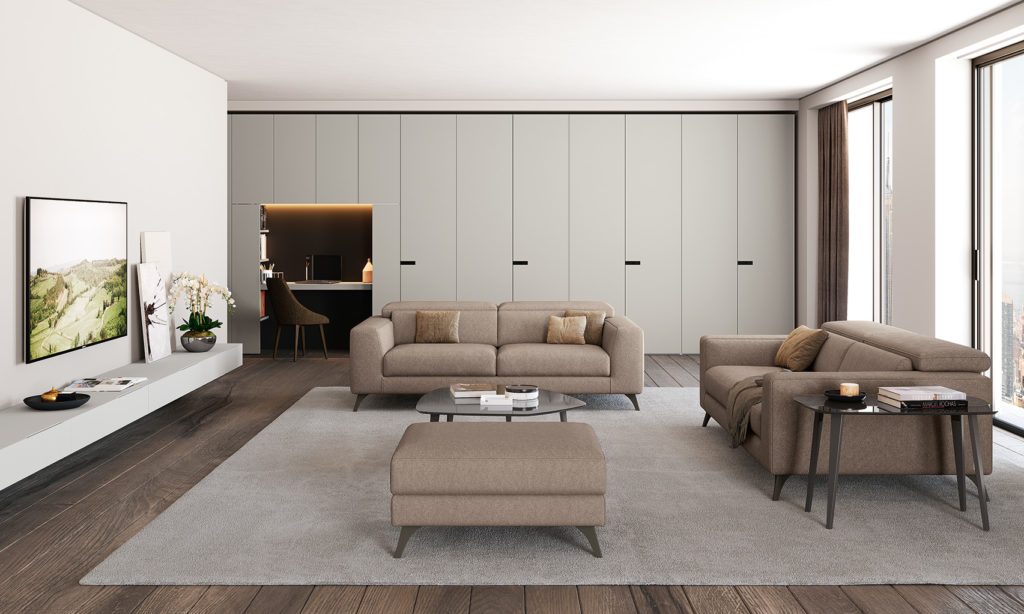 We offer stunning custom wardrobe designs in Dubai to all of our clients. Our expert team of specialists and designers provide a unique approach through every stage of the process, creating each design to fit your lifestyle and needs.
Our bespoke wardrobes are carefully personalized to suit your living and storage needs and are inclusive of all your individual specifications. Our wardrobe designs in Dubai range from dressing rooms and walk-in closets to fitted wardrobes and elegant walk-through closets and more. 
FITTED: Our custom-made fitted wardrobes will merge easily with your bedroom décor while boosting the overall appearance of the rooms by optimizing storage space through a utilitarian yet stylish design. To create a wonderfully designed bespoke wardrobe solution, our wardrobe professionals will attend to your design brief and requirements. 
WALK-IN CLOSETS: Our walk-in closets are precisely designed and carefully produced to provide a luxurious room that suits your unique storage and decor needs. Our walk-in closets are a true example of bespoke luxury, with the possibility to mix different patterns and materials creating a  distinctive environment for your everyday needs.

WALK-THROUGH CLOSETS
We are specialists in the design of walk-through closets that complement your bedroom's décor. Our custom and distinctive fitted designs will offer a seamless transition between the areas to optimize storage from a luxurious master suite to an adjoining dressing room. 
Our dressing rooms are a better statement of luxury, combining timeless design with efficient solutions. We will create a tasteful and personal environment that will be suited to all of your needs by combining great artistry with practical storage options.

Choose Febal Casa for your Wardrobe Designs in Dubai.
We are sure to exceed your expectations. From concept through installation, our unique design service is exquisite at every stage. Our expert designers are ready to collaborate with you to make your wardrobe design in Dubai a reality. We provide a wide range of elements to fit your personality and lifestyle. Our wardrobe designs in Dubai are made using only the highest quality materials to produce beautiful, long-lasting wardrobes.

Visit our main shop in Dubai, which is located on Al Marabea Sheikh Zayed Road in the Al Quoz industrial zone.