A contemporary, comfortable house is a lifelong ambition for many people, and the most crucial component is a functional kitchen. The kitchen is the most significant area of the house as it draws the entire family together. The decoration, furniture, electrical appliances, tools, and functionality of a completely modern kitchen design in Dubai are all important. At Febal Casa we ensure high-quality and long-lasting materials, modern technology, resistance to climatic conditions and other elements, exquisite and one-of-a-kind kitchens, and the finest kitchen designs in Dubai.


Italian manufacturers are the most exquisite artisans in the world, recognized for crafting high-end, functional, and stylish Italian kitchens. At Febal Casa, we will conduct extensive research to identify the best kitchen designs in Dubai that are custom to your space, taste, and requirements.
Febal Casa presents the latest kitchen designs in Dubai.
Our designs are all individually planned, constructed and created with great care and expertise. Our experience is and it is backed by our trust, dedication and attention to detail from picking the correct wood grain to hand-painting doors. 
Modern kitchen designs in Dubai showcase simplicity, flow, and tranquillity. With handleless cabinets, simple colour palettes, and clean lines, our creations ooze an ultra-modern aura combined with a stimulating culinary indulgence. This is made possible by kitchen designs in Dubai that enable tranquil and streamlined cookware storage, as well as materials that lend a cutting-edge aesthetic. Our modern kitchen designs in Dubai always generate magnificent luxury in the heart of your house.
At Febal Casa, we pay attention to the smallest details: practical and functional furniture, smart storage, fabulous accessories, personalized sink, comfortable table and chairs, high-tech oven, high-performance stove and all of the elements needed to create a thoughtful kitchen design in Dubai while remaining completely customisable to your preferences.
Kitchen designs in Dubai – trends for this year
Here are some trends to keep in mind while designing your home, from bold colours and innovative patterns to new materials and rich textures.
BOLD COLORS 
The trend for bolder and eye-catching colours in the kitchen remains strong and carries over into countertop and backsplash sections, with more and more customers going for marble-looking pieces more than ever. The texture is also featured in kitchen designs in Dubai, with worktops and splashbacks, handle finishes, as well as reeded glass, which creates a more layered appearance.
SMART APPLIANCES AND STORAGE 
Appliances are becoming smarter, requiring less of each, which helps to keep worktops free and kitchens appearing clean. Kitchens are no longer rooms that you close when you're done with your meals, instead, they've become integrated spaces with our living rooms. The kitchen and living rooms are the ones we spend the most time in, so having a place for all the kitchen-specific goods to be hidden away yet accessible is essential. One of the advantages of working with a kitchen designer in Dubai from Febal Casa on a project from the beginning can help you make the perfect decisions. 
ROUND SHAPES
Rounded shapes create graceful and lovely corners while softer shapes are more inviting and showcase refinement. They also help make the ambience seem more natural and artistic. Rounded corners on islands are also very popular as it creates a cozy yet intriguing look with a statement piece to showcase individuality. A round sitting area is also very popular as it is more social and brings a group closer together.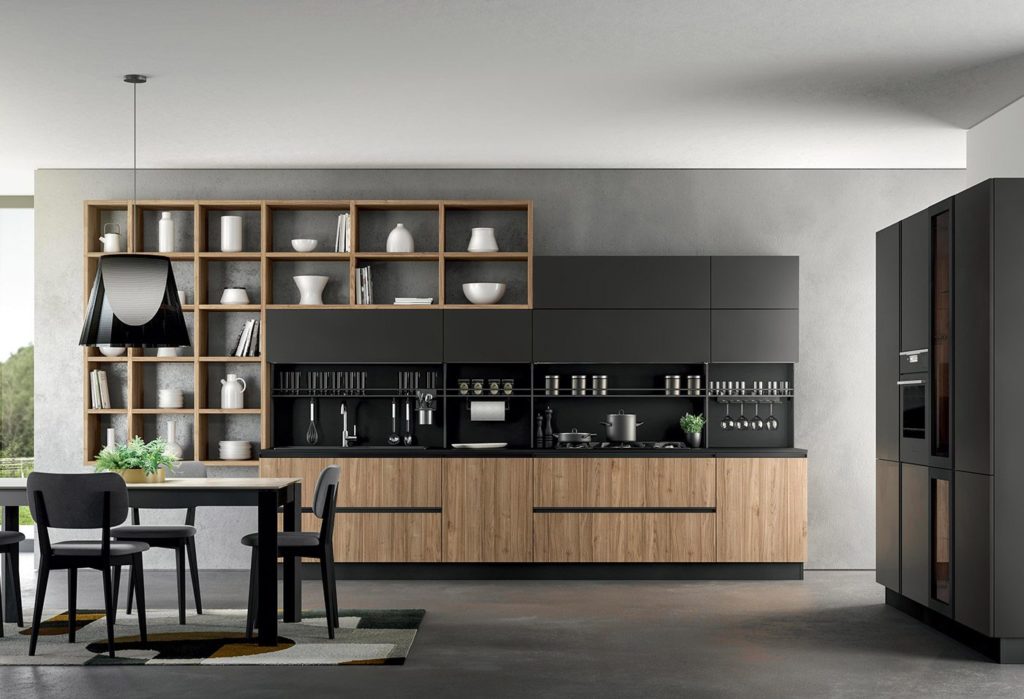 Work on a luxurious kitchen design in Dubai with Febal Casa
At Febal Casa, we will work with you to design one-of-a-kind living spaces, from living rooms to kitchen designs in Dubai and everything in between. 
We collaborate closely with you to ensure that your specific needs are met and that you are satisfied with each stage of the process, allowing us to establish a long-term partnership. From the initial concept through the acquisition of high-quality materials and installation, we do it all. We offer complete project management as well as high-quality craftsmanship.