Luxury closet designs in Dubai have risen to the top of everyone's wish list in recent years, and demand is steadily increasing. And Febal Casa is here to help you bring that to reality. We work with the finest Italian materials to create luxury closet designs in Dubai to suit all your needs. We are known for premium furniture and materials with unparalleled craftsmanship. Each luxury closet design in Dubai that we create is carefully executed with the finest attention to detail.
Your closet tells the stories of your life and takes you back to old memories. A visual storybook of moments you won't soon forget. It's the home of all of the things you've collected throughout the years. A space where the pricey designer items live in harmony with rare vintage pieces. And it is also a reflection of you. This is why careful planning and execution are key when creating luxury closet designs in Dubai. A walk-in closet helps you keep everything organized and insight in order to achieve maximum comfort and functionality. It is also a place for your clothing, shoes, and accessories to stand out.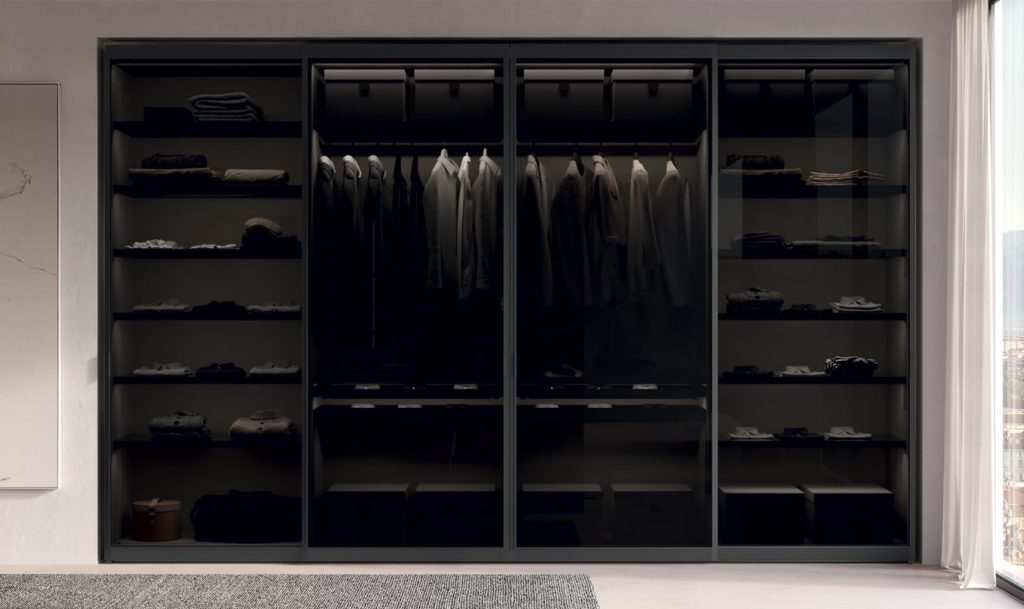 Are you looking to create your luxury closet design in Dubai with a modern style that will outlast the market trends? Febal Casa is made up of experts in luxury closet designs in Dubai and we're here to design a perfect space for you.
Creating a Flawless Luxury Closet Designs in Dubai.
It is a usual design practice when it comes to lavish closets to include glass doors and custom LED lighting systems to highlight the contents inside. Shoes, bags, jewellery, and other accessories can be used to create the wow factor of the display. If you have the space, including a closet island or a seating section will create a private and cozy environment reminiscent of some of the luxurious dressing rooms in the world. 
Our main focus is on personal style and comfort. Each design is completely personalized – referring back to the owner's preferences. A truly luxury closet design in Dubai aims to create a very intimate atmosphere of high-living that extends beyond the closet and into every space of the home. A fabulous luxury closet design in Dubai will impress its owner and its many guests by surrounding them in a lavish setting alongside exclusive and unique items. 
Every luxury closet design in Dubai is a very personal space and should be organized as such. Keeping items clean and in their place will help you create a peaceful environment. There are some key elements in achieving this highly organized space such as a custom display system, glass doors and drawers where needed, LED lights strategically placed to highlight each item, closet islands along with comfortable seating high and personalized decoration choices to suit the owner's personality.
Choose Febal Casa for your
Luxury Closet Design in Dubai.
luxury closet designs in Dubai is more than just a place to keep your clothes, it's your safe space, your safe haven and like in any other space in your house, it should always look its best so you can feel your best. Each luxury closet design in Dubai by Febal Casa features a unique design strategy to maximize storage space while providing the ideal sanctuary within your master bedroom. It must be carefully designed in order to store, display, and add functionality to your daily life. The overall design has the potential to enhance the utility of the entire area by featuring different hanging spaces, display shelves, and speciality racks. 
Febal Casa's high-end Italian furniture and expert team, combined with our devotion to our clients, has lifted us to the forefront of luxury closet designs in Dubai. We're always happy to assist you with your closet adventure, so please contact us or visit us in person for a consultation.