Making space for your dream walk-in wardrobe design in Dubai is easier than you think. Walk-in closets now rank high on everyone's list of dream spaces. Whether you love some statement storage to show off your prized designer pieces, or you want to free up space in your home and clear the clutter, we are here to help you achieve your perfect walk-in wardrobe design in Dubai.
A clean and organized storage section is one of the best ways to instantly elevate your space. If you have an additional empty room, a walk-in wardrobe design in Dubai by Febal Casa is for you.
How Febal Casa will create the perfect walk-in wardrobe design in Dubai for you.
We can build an initial walk-in wardrobe design in Dubai based on your demands and then shift things around to achieve the precise solution you desire. We'll also make sure you consider the smallest details such as plug outlets for beauty tools such as hair dryers, straighteners, and styling wands.
We start by assessing the general space we have to work with, the locations of any entries into the area, existing windows and the overall core of the space. A walkthrough of the space is always recommended to establish the layout and pathway you want. If the dressing room is part of the master bedroom or an adjacent room, there isn't usually an opening door, which saves a lot of space for extra storage. 
With a spare space, now may be the ideal moment to build your own walk-in closet, and bespoke is the way to go if you have the means. The ideal option is to use a portion of a neighbouring room, such as a larger bedroom next door. If you can afford to completely sacrifice a spare room, design it as a luxurious dressing room, complete with a window, seats, and even a dressing table. When you decide to sell, it can always be changed back to a bedroom.
If you don't have a spare space to convert into your dream walk-in wardrobe design in Dubai, we'll make it work with any space that you do have. If the master bedroom is spacious, we can take some space and build a galley-style 'walk-along' closet behind a barrier. We can improve an old wardrobe and make the most of every inch by installing a mix of storage spaces to make every item accessible and visible.
Choose Febal Casa for your walk-in wardrobe design in Dubai.

We specialize in walk-in wardrobe designs in Dubai made of the highest quality Italian materials. Your ideas combined with our exceptional designers' superb execution is a match made to last. We work collaboratively with a hand-selected group of expert designers who share our high standards. We have worked with hundreds of clients and have helped them achieve their dream spaces, homes and overall lifestyle. From traditional and classic to modern and contemporary, we are here to help you whether you need a single room customized or a full house customized.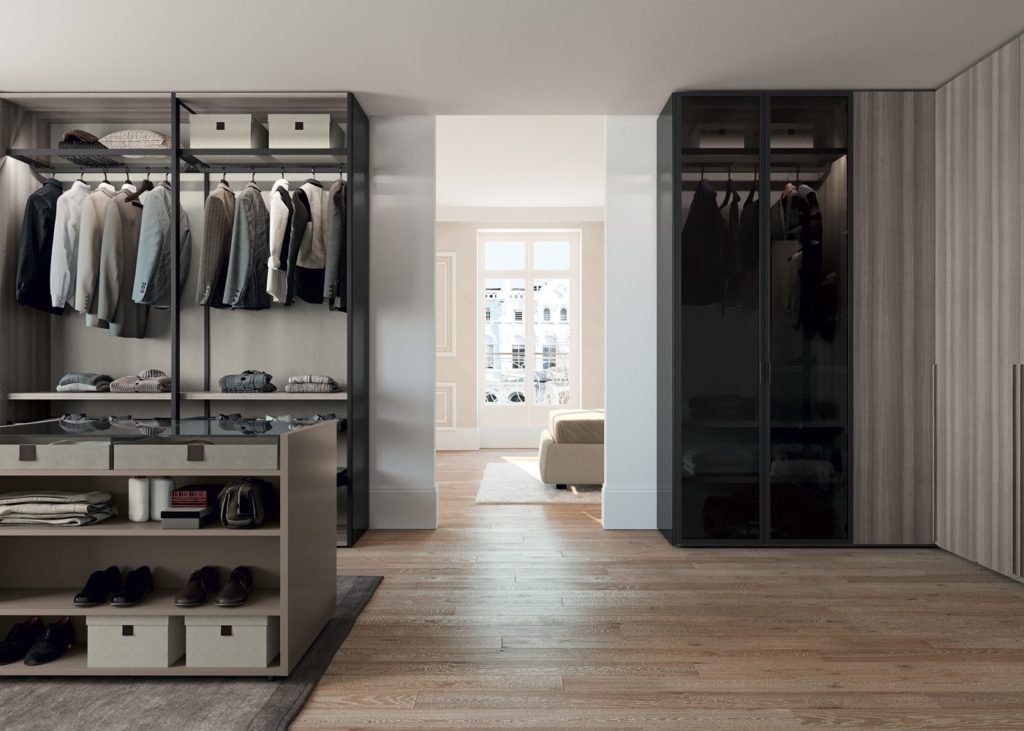 Febal Casa believes that each individual has a unique lifestyle that demands unique designs to meet their specific needs. By taking into consideration every aspect required and working hand-in-hand to create something unique for you, we ensure the comfort you require. We create customized wardrobes based on your requirements and the décor of your room. It is much more than just a place to keep your clothing. We'll be making an environment that represents your personality. Reach out to us today and find out how we can help you with the walk-in wardrobe design in Dubai you've only ever dreamt of.