Walk-in closets are the perfect solution for storing your stuff, arranging your clothes and accessories, as well as adding value to your home design. You've finally added your dream walk-in closets to your house? Well, it's not enough. If it's out of control, and you can't organize it anymore, the closet you've always wanted is no longer perfect. The secret is that you didn't consult the walk-in closets design experts who specifically design according to each client's needs and lifestyle.
Innovative storage system for your walk-in closets
Get rid of the mess with such amazing walk-in closets that were designed specifically for you from Febal Casa. Whatever space you have, your bedroom corner, the back of the bed, or a space you don't use under the stairs, it's always possible to make the most of it to optimize storage. Don't worry, we'll take care of every little detail in your walk-in closets, we'll make your daily life easier and all your clothes and stuff will have their exact place, visible in front of you and within your reach.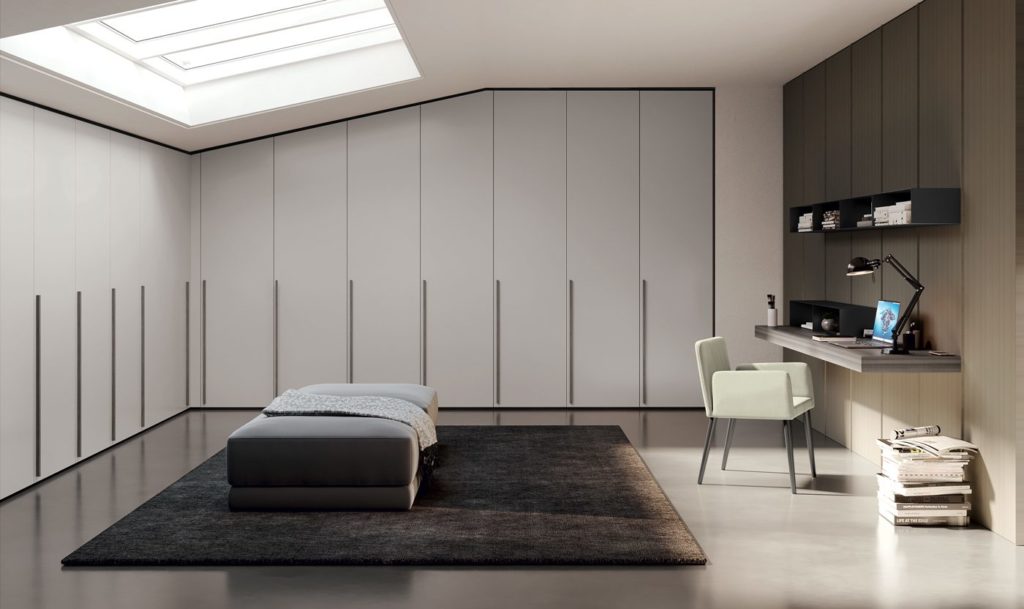 The walk-in closets design that we provide at Febal Casa will offer you perfect storage thus simplifying your life. All the walk-in closets in Dubai are planned to be functional and elegant but their design varies according to customers' needs. Roof and wall, that's all we need for creating simple walk-in closets where we fix shelves, drawers, and rods, but if your budget allows, we can design it 100% consistent with your needs with greater diversity in terms of storage. In fact, at the design stage, it is necessary to study some of the indispensable details, to make sure the walk-in closets would be comfortable and practical. 
Add these must-haves to your dream walk-in closet
The perfect arrangement for your wardrobe starts with drawers and sliding shelves and you certainly cannot abandon these elements. You can also put separators in drawers for socks, underwear, ties, scarves, watches, jewelry, sunglasses, and more. Normal shelves, to separate the pile of sweaters and shirts from the rest of the clothes and sort them in a visible way, we also add angle shelves to take advantage of every inch of the walk-in closets. Bars with varying heights to hang each type of clothing separately: These are indispensable for hanging clothes by type, the lower bars can be for hanging pants, the others for short shirts and jackets, and the high-altitude bars for hanging winter coats and long dresses. We can also add hangers specifically for ties and belts.

Boxes and baskets are necessary to store scarves, hats, hair accessories, and things that are easily scattered, it is desirable to use plastic and transparent boxes to easily determine what's inside.
Jewelry drawer: exactly like a jewelry tray to keep the everyday jewelry in hand.
Full-length mirror: First thing is to see yourself and add the finishing touches before you get out, it also makes the space look bigger.
Good lighting: a very important factor in the walk-in closets. It doesn't matter whether it's small or big. The right lighting makes it easier for us to see our stuff and choose clothes. Since these rooms often do not have windows, they will need strategic and functional lighting at the design stage. Every corner of the dressing room should be lit and LED lighting installed at the bottom of the shelves. If the room is large and its roof is high, we recommend adding a little chandelier that will give a great aesthetic touch.
Stand for the last-minute clothes: When you're in a hurry you hang the clothes or attach the ones you'll be wearing tomorrow.

Shoe closet: shoes also have to be arranged, depending on your needs, we can customize exposed shoes' shelves or a vertical wardrobe.

A small pouf that can be designed as a storage seat and a comfortable dressing chair.
Another interesting accessory that can be added as well, a practical built-in ironing board that provides beauty and efficiency and makes the ironing easier.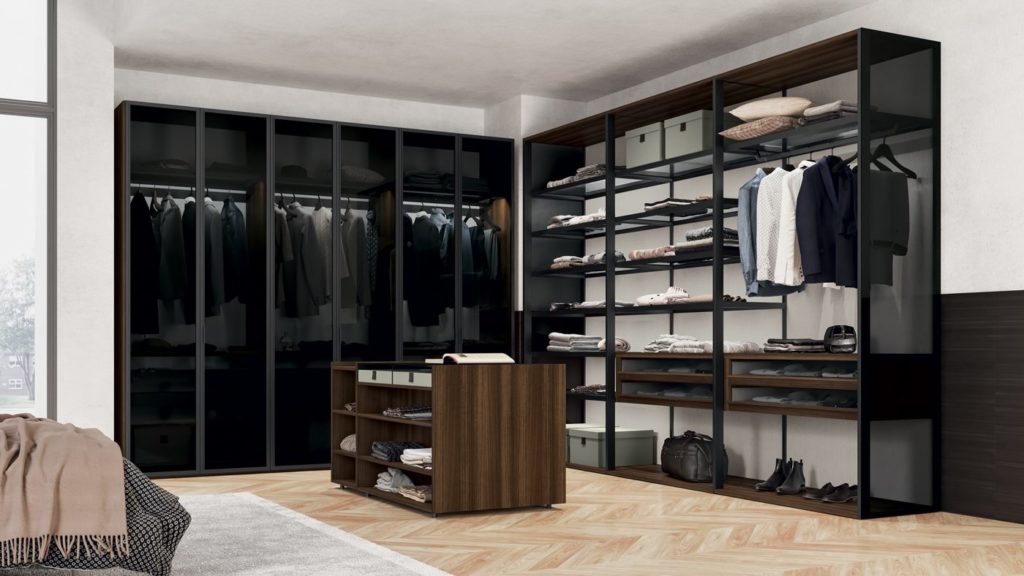 We also advise you to protect your clothes from dust by adding transparent doors so your clothes will be made visible and it's easier to find what you're looking for.
Let's start designing for you! Beautiful, practical, and unique walk-in closets!
It'll be our pleasure to design your dream closet! Head to our store or give us a call and book an appointment with our qualified team. We pay particular attention to the smallest details; our distinction is also reflected in the use of high-quality materials and accessories.
Have a look at our website to check our wide collection and achievements www.febalcasa.com