Smooth counters free of gadgets, cabinets without dated detailing and appliances so slick, they might be invisible. Nothing sounds more enticing these days than modern kitchens in dubai with a minimal design yet functional. However, the latest kitchen designs can project an image to some that might come off as cold, and not the usual cozy family space we've all come to know. Fortunately, Febal Casa is here to dispel that myth with modern kitchen designs in dubai that compose of a minimalist design that is warm and welcoming, perfect to gather with your loved ones.
With a carefully crafted design to suit your lifestyle, we aim to create spaces that will allow your personality to shine while adding functionality to your everyday needs.
Designing modern kitchens in Dubai consists of
Modern kitchens in Dubai are incorporating the open space concept where the kitchen-living space becomes a fully integrated family space; Its successful design includes elements such as layouts, cabinets, worktops, appliances, and so forth combining function, aesthetic and technology. But what are the top 5 must-haves for all modern kitchens in Dubai?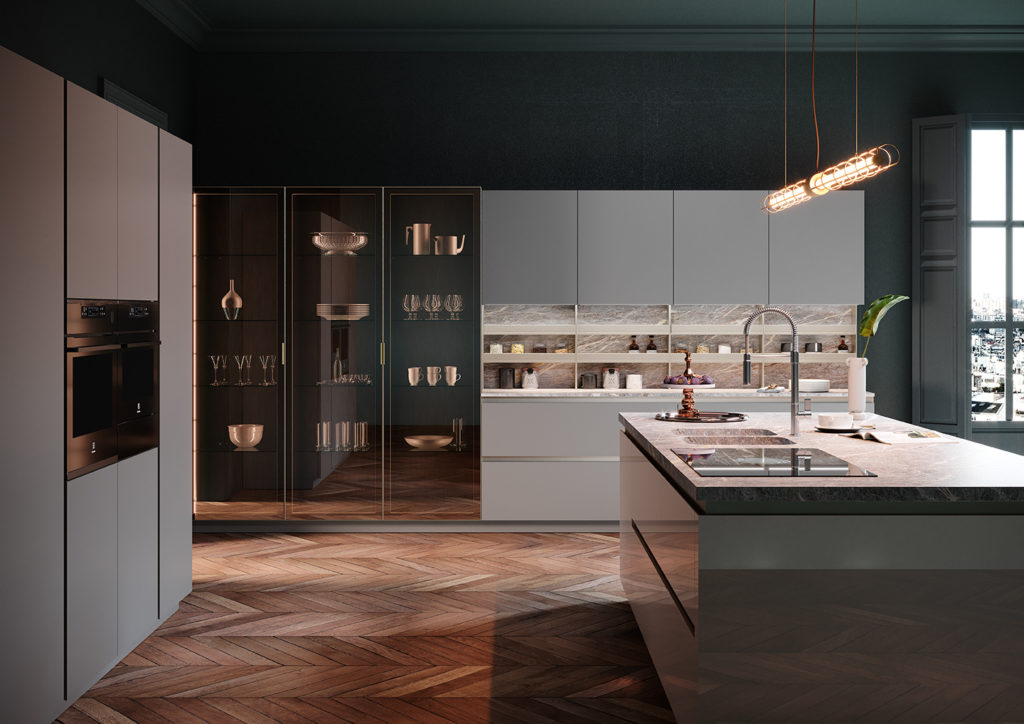 Seamless Designs & Sleek Hardware 
Choosing sleek and elegant hardware appliances is a must. We suggest choosing an Italian kitchen design, for example. This would give the kitchen cabinets a facelift while also seamlessly blending with the rest of the kitchen design.

Built-In Pantry 
Most kitchens don't have enough room for storage which is where built-in, pull-out units come in handy. A gap between the kitchen counter and the refrigerator, for example, can be used to make a pull-out pantry. Because the items stored will be plainly visible from both sides, as well as easy to access. 
Organized Drawers 
Choosing kitchen drawers for easy access cabinets will simplify the process of keeping things tidy on a daily basis. Furthermore, it will save you time and effort rather than digging through deep cupboards for the smallest of supplies.
Under Cabinet Lighting
A good quality under cabinet lighting is a must since it helps to lighten and brighten up the kitchen. It looks nice and it also serves as a job light during dinner preparation or cleanup. 
Relocating Appliances
Most kitchen equipment and appliances should be raised to eye level for easier use and added functionality, for example, the oven, is by far the most used appliance in every kitchen and in every home. A built-in oven not only looks nice, but it also makes moving hot meals to the table and cleaning easier.
Let's bring your modern kitchens in dubai vision to life
Kitchens are for cooking delicious meals, spending time with family, and entertaining guests. However, the greatest kitchens are much more. They can be one-of-a-kind and exquisite areas where you can celebrate life in style. 
The layout of the kitchen is the first and most important factor to consider as we must always begin with the form and size of the space to determine what works and what doesn't. In most situations, the size and shape of the room will dictate the best kitchen design. 

Your habits and how you want to use the kitchen have a significant influence on its design, which will have a significant impact on your everyday life after the kitchen is built. We think that a kitchen should be both beautiful and useful in order to precisely meet your needs, desires, and lifestyle. Only then does it become your dream modern kitchen in Dubai. 
Your kitchen is as unique as you are, which is why each of our kitchens is custom-made and created with you in mind. Designed to make the most of your space where you can live your best life, every day. Our design experts are here to guide you through every step of the process. We want to be in close touch with you in order to bring your vision to life. After all, no one understands your needs better than you. Get in touch with us today to create your modern kitchen in Dubai.