Find the best Italian wardrobe in Dubai, The model you like, your style, your favorite color, the appropriate design for your decorations, the exact size, and the many options, The one you've always dreamed of, buy ready-made cabinets, or design what's convenient for you… It's up to you. You're the king at Febal Casa!
A well-designed clothes storage in your bedroom is essential to keeping your personal space clutter-free. Previously, all the old dressers, even the Italian wardrobe, were a traditional classic wooden closet that we simply used as a place to store the clothes, but now they are an extra place for saving stuff that we don't use much or seasonal clothes. Nowadays most of us have in our bedrooms a closet for shoes and bags or a walk-in closet. Adding a Clothing stand is not only for saving space but can be used to add a stylish aesthetic to your room.
Some of us can build a walk-in closet but others have to add a ready-made wardrobe or design a custom Italian wardrobe in Dubai depending on the space available. Simply, even if you have a wonderful, exclusive, and special bedroom it won't be complete without the best Italian wardrobe, and what if it was made by Febal Casa the historic Italian Design brand that has accompanied different generations of consumers, the designer of the best Italian wardrobe in Dubai.
A large collection of the best Italian wardrobe in Dubai, unique designs, and excellent quality at the best prices.
What you find in our store cannot be found anywhere else. Let's start a unique journey together, we at Febal Casa help you choose what's best for you and pick the best Italian wardrobe in Dubai that fits your lifestyle. We are known in the market for our creativity and the accuracy of our designs, whatever you are looking for and whatever dimensions your space is, you will, of course, find what suits you. We have everything we need.
Our collection combines Italian traditions with contemporary excesses and we provide solutions to daily living with the concept of comfort and relaxation. We're experts in designing the best Italian wardrobe in Dubai, wardrobes with carbon gray or clear glass doors, cabinets with hinged doors, wardrobes with sliding doors, walk-in closets, and practical storage solutions.

There are a lot of companies that provide good wardrobe quality, but it's really hard to find great quality at convenient prices. Just one company has been able to accomplish this task with distinction, ideally, and to offer a wide collection of the best Italian wardrobe in Dubai and in a modern manner, a collection that satisfies any consumer.
What distinguishes Febal Casa from others? The best Italian wardrobes in Dubai.
We are a strong competitor in our field, in addition to our exceptional Italian designs, we rely on using a strong paint foundation that is strong enough to withstand wear and tear, high-quality raw materials and accessories, and in short, our Italian wardrobe is not affected by climate factors. Our luxury collection has a list of advantages that differentiate it from all other similar products available on the market: selected high-quality materials, fully tailored design, and unique details, simply a wonderful and exclusive Italian product.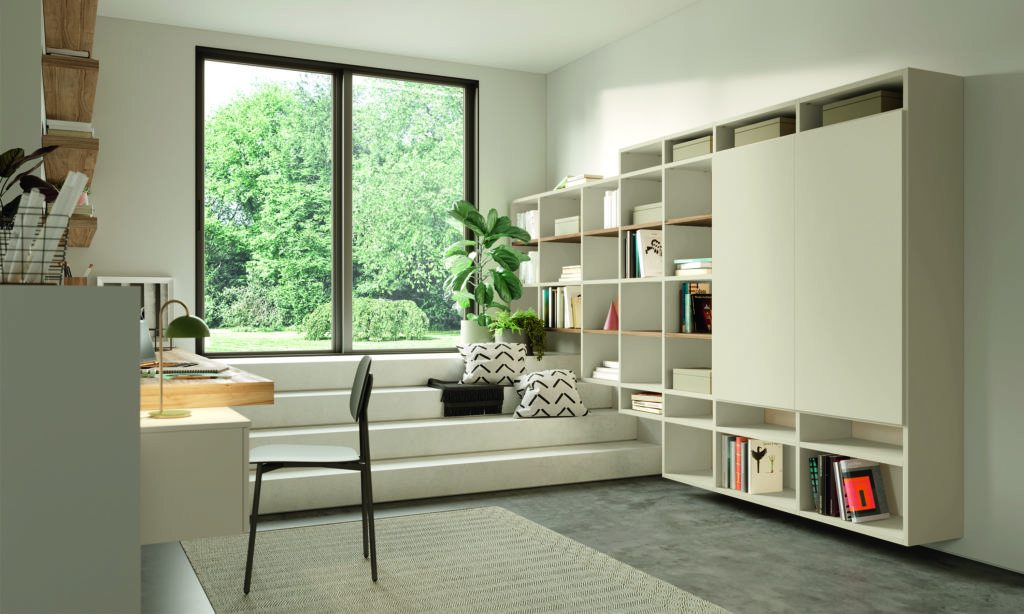 The beautiful wood material is often combined with other elements in white or black to create a neat design. The copper accessories are very popular today, the mirrors embedded in the doors are also very modern and very practical and the soft and consistent designs are currently very demanding. Rest assured that any item from Febal Casa will add special magic to your bedroom. 
How do you choose the best Italian wardrobe in Dubai that is perfect for your room?
Each of our collections is designed to take into account the requirements of comfort, elegance, and quality, you can buy a ready-made wardrobe from our store, order a new one, or even ask for a specially designed one. We, at Fabel Casa, offer you the opportunity to design your dream Italian wardrobe with perfect storage solutions that match your needs.

Our team of experts will be visiting your house for a detailed consultation, listening to your requirements very carefully, advising you on what's best for your house. After measuring the spaces and taking the required information from you, we start the design process. And by using very sophisticated techniques and specialized expertise in this area, we help you to see the chosen design as it is on the ground by offering multiple models and making the final required adjustments and then starting the process of industrialization after we have fully ensure your satisfaction. Finally, at the installation stage, we ensure that the floor and walls are preserved from damage or scratching leaving space ready for use immediately. Moreover, after installation, we make sure we deliver the best possible customer service.

Our products are not just furniture and wardrobes, but we keep up with everything that's new and we offer you all the necessary accessories, traditional, unique, and modern. We provide all the high-end accessories that complement the decoration of your wardrobe. 
We are Febal Casa, the essence of sophisticated elegance, you can either have a look on our website to explore many extraordinary pieces of furniture that complete your room décor or we'll be honored if you visit us at our store. You'll see, touch, and notice the luxurious quality of Italian products. A luxurious collection, lots of choices, and services waiting for you!